05-15-2019, 02:32 PM
dbeyat45
Administrator


Posts: 7,178
Joined: Jul 2017
Reputation: 79
Jakobshavn Isbrae
Mighty Greenland glacier slams on brakes
Where previously this was dropping in height by 20m a year, it's now thickening by 20m a year.

"All this is a reminder of how unpredictable glaciers can be," she told BBC News. "We didn't predict this change in behaviour, and if Jakobshavn does start thinning and retreating again - we can't predict when that will happen.

"

The rate of sea-level contribution from Greenland has slowed in recent years

and it's because some of the biggest ice evacuators like Jakobshavn aren't contributing as much as they used to."
The noise you heard was moi falling off my chair when I read
that
on a BBC website.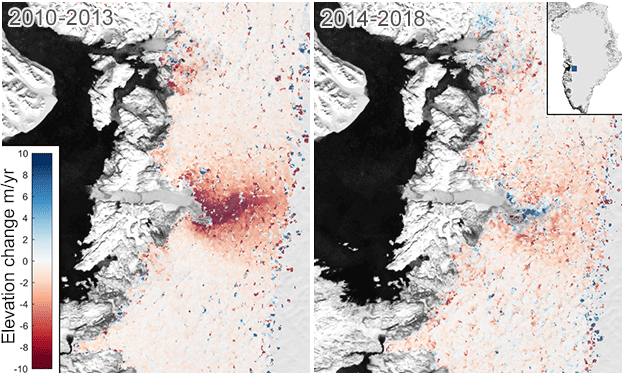 ---
The world has succumbed to smarmy spreadsheet magic pudding nonsense about wind and solar that simply does not add up.
05-15-2019, 04:08 PM
Di Wundrin
Super Moderator


Posts: 9,038
Joined: Jul 2017
Reputation: 132
RE: Jakobshavn Isbrae
Noooo! They didn't get the modelling wrong did they??

Will they apologise in a headline of the Gardy and on the ABC?
User(s) browsing this thread: 1 Guest(s)